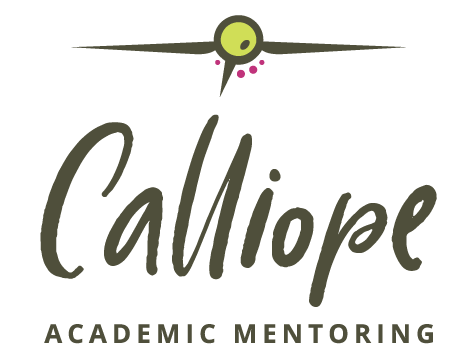 Calliope's approach to education is multifaceted. While teaching is our primary focus, we recognize that it is only one piece in an entire constellation of variables that determine success in learning. Therefore, we mobilize student's academic resources and act as a bridge between our students and administrators, educators and parents. We work closely with academic deans, teachers, advisors, coaches, learning specialists, and parents to address all aspects of our students' educational needs.
Calliope mentors work with many students who have been diagnosed with learning differences such as ADD, ADHD, dyslexia, dyscalculia, and dysnomia. We view these as learning challenges and cognitive differences and have found that there is a code to each student's learning process that, once discovered, permits access to all intellectual and creative endeavors.
Academic Mentoring

We design and deliver custom learning support in all academic areas including:
Economics
High school and undergraduate level macro- and microeconomics
Languages
Beginning, intermediate and advanced French, German, Mandarin, Portuguese, and Spanish
English
Reading comprehension and analytical, expository, and creative writing
Math
All levels of math through AP Calculus BC and Statistics
History
United States and World History, Art History, and Western Civilization
Science
All levels of Biology, Chemistry, Physics, Environmental Science, and Anatomy & Physiology
Standardized Test Prep

We help students prepare for standardized tests by carefully assessing core language and math skills and targeting specific areas of need. Each uniquely tailored program improves math and verbal skills and offers strategies for stress-free and confident execution of SAT, ACT, SAT Subject Tests and Advanced Placement exams.
Independent Learners

Whether your student is a homeschooler, un-schooler, wildschooler, or worldschooler, we work with your family to design an effective and engaging learning environment around their needs, strengths and passions. We also design curricula for students who are homebound due to health issues.

High School and College Application Process
We offer support through all phases of the application process, including school selection, timelines, and assistance with personal statements and supplemental essays.  We help students generate outstanding statements that communicate their personalities, purpose, values and achievements.

Remote Mentoring Sessions

Effective and engaging mentoring sessions for students in all content areas.

Summer Session

Custom designed curricula for students who need to make up work during the summer or who wish to get a jump start on challenging material for fall.
High School-College Bridge

For students transitioning from high school to college.

We cannot say enough wonderful things about Laura. She was truly amazing at
helping Remy through an extremely difficult year on many fronts, and not just withacademics. She was just so positive, supportive, and light hearted, and at the same time so capable at giving him really valuable guidance in a range of subjects, from classical Chemistry to Western Civilization (which as I'm sure you know, is no small feat). She was really a perfect match for him.
What a beautiful journey it's been!  And so many thanks to you!  You gave us the
confidence and courage to follow the "unschooling" rainbow which was so liberating and has lead Olivia in so many rich directions.  We seriously can't thank you enough.
— Parent of Calliope Independent Learner

Mail
P.O. Box 51472
Pacific Grove, CA
93950

Office*
2860 Laguna Street
San Francisco, CA
94123

* Office will be closed until further notice due to COVID-19. Please direct all mail to P.O. Box 51472, Pacific Grove, CA, 93950.